Tropical Cyclone to Usher in the Autumn Cold Weather
16 Nov 2019
If you're tired of wearing shorts and t-shirts, you're in luck! It's time to get out your Autumn clothes, if you haven't already.
Weekend (16-17) forecast: cloudy, dry, and foggy
You may have noticed that we haven't had any signifcant rainfall in Shenzhen since October 16. That has put the city in a mild drought and made the air a bit dryer than usual for this time of year. In fact, the city has had its Wild Fire Warning at orange since November 6th.
For those sensitive to air quality fluctuations, you may want to wear a mask, keep the windows shut and air purifier on, and minimize outdoor exercise.
Temperature Drop
The weather in Shenzhen this weekend is expected to be cloudy with dry air, and light fog or haze, and temperatures between 20-27 °C. Expect substantial differences between morning and evening temperatures.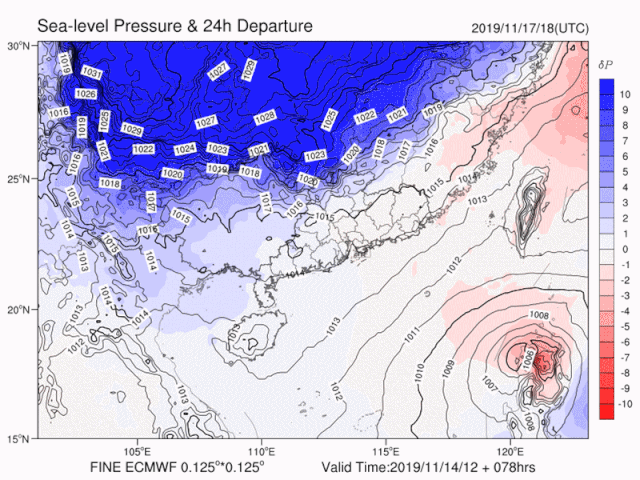 From Monday through Tuesday (18-19th), the impact of cold air, dry weather continues, dropping temperatures significantly (as low as 16 ° C), as strong winds from the north persist. In some areas temperatures are expected to hit new lows for the second half of this year.
Is this normal?
The earliest recorded time Shenzhen has entered "autumn time" was September 28th, 1997. Autumn time is defined as the first day the sliding average temperature has been ≤ 22 °C for 5 days straight. In the past five years, the earliest autumn time in Shenzhen was November 2nd and the latest time was November 25. The average is November 3rd.
Tropical Storm Kalmaegi Enters the South China Sea Next Week
The 26th typhoon of the year, "Kalmaegi" is expected to enter the South China Sea at the beginning of next week. Together with the influence of cold air, the coastal winds and waves in Guangdong will increase significantly. Coastal and island tourism and sea vessels should take care.
Fortunately, this storm isn't expected to have any serious direct impact on Shenzhen, but... get your warmer clothes ready... it's going to get chilly.
Sources:
in History
In 1920, England's King George V declared 11 November "Armistice Day," a national holiday to honor the men and women, who had defended England during the war. At that time, the world had never seen a war as devastating as the conflict wracking Eur...
There are a lot of great parties to enjoy this year! Here's a list to help you find the right one to get the most out of the holiday.
What is it? The State Council has decided to carry out the Seventh National Census in 2020 to provide a basis for decision-making by the Party Central Committee and the State Council in formulating population-related policies.