Y-COMIC-X ? Landing at the Sea World Culture and Arts Center
---
85 comics artists, over 400 local comics works
73 precious original drawings
Recording the changing ages, profiling cultural memories
An enclave of youth for several generations
A tangible feast for Chinese comics fans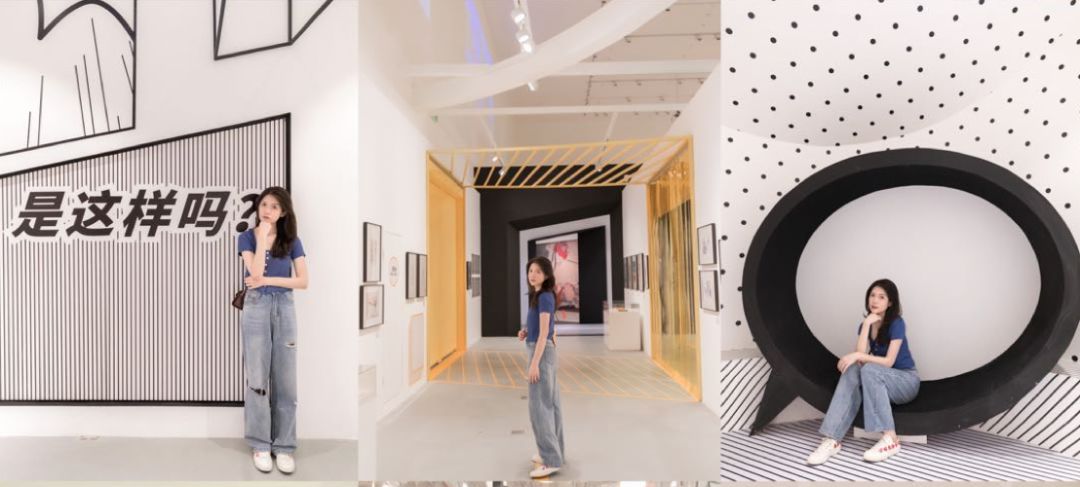 图片分别摘自小红书博主
@aboutyee @雪豆Sylvia @Lucine鹿醒
(July 26th, 2019, Shenzhen) Celebrating one hundred years of Chinese comics, the exhibition Y-COMIC-X? curated by Design Society,was officially revealed at the Sea World Culture and Arts Center. The exhibition opened to the public on July 20th and will last until September 30th.
Y-COMIC-X? showcases the story of China through the evolution of Chinese comics, displaying more than 400 local comic works from 85 comics artists, including 73 original drawings, in chronological order. This exhibition is composed of six chapters: Early Manhua (Comics) and Lianhuanhua (Comic Strips), The Golden Age of Lianhuanhua, External Influences on Chinese Comics, Globalization and Digitizationof Chinese Comics, Independent Spirit, and Comics in the Multimedia Age. It presents the evolution of Chinese comics as a unique form of narration.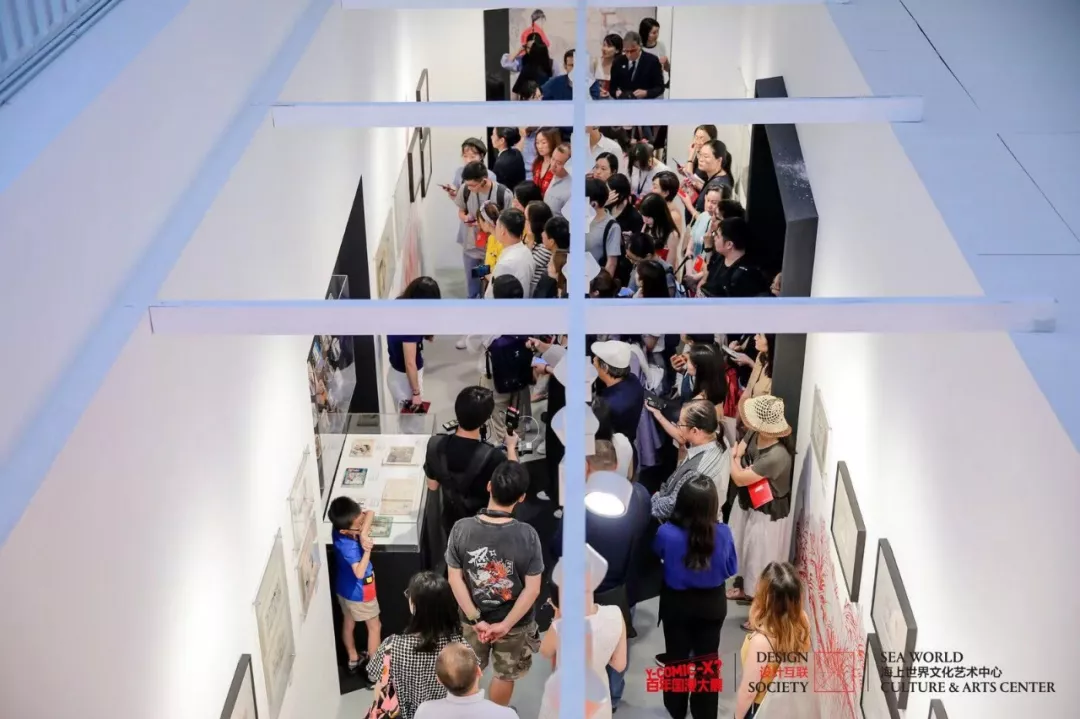 Y-COMIC-X? is a new and major endeavor for DesignSociety. Manhua (the Chinese wordfor 'comics') is a joyful and genuine form of expression close to our daily life. Through gathering those Chinese comics pioneers who hold the broadest popularity, the exhibition presents the developing artistic trends of comics, and presents the audience with a universe created by the magical pen, where they can find a lost innocence and uphold the conscience of an era, condensing the cultural memories of a century and rebuilding the enclave of youth for several generations.
▲ 四幅丰子恺儿童插画,首次面向公众展出
▲孙悟空三打白骨精》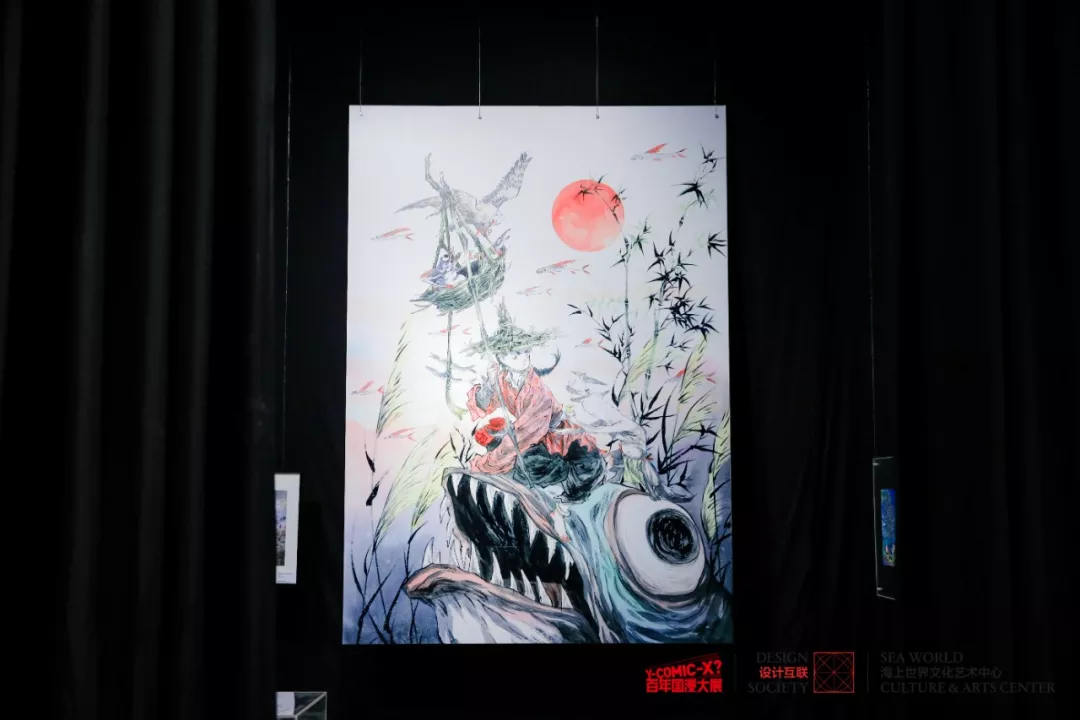 ▲《松风》,早稻以自成一派的水墨手法,勾勒出高水准画作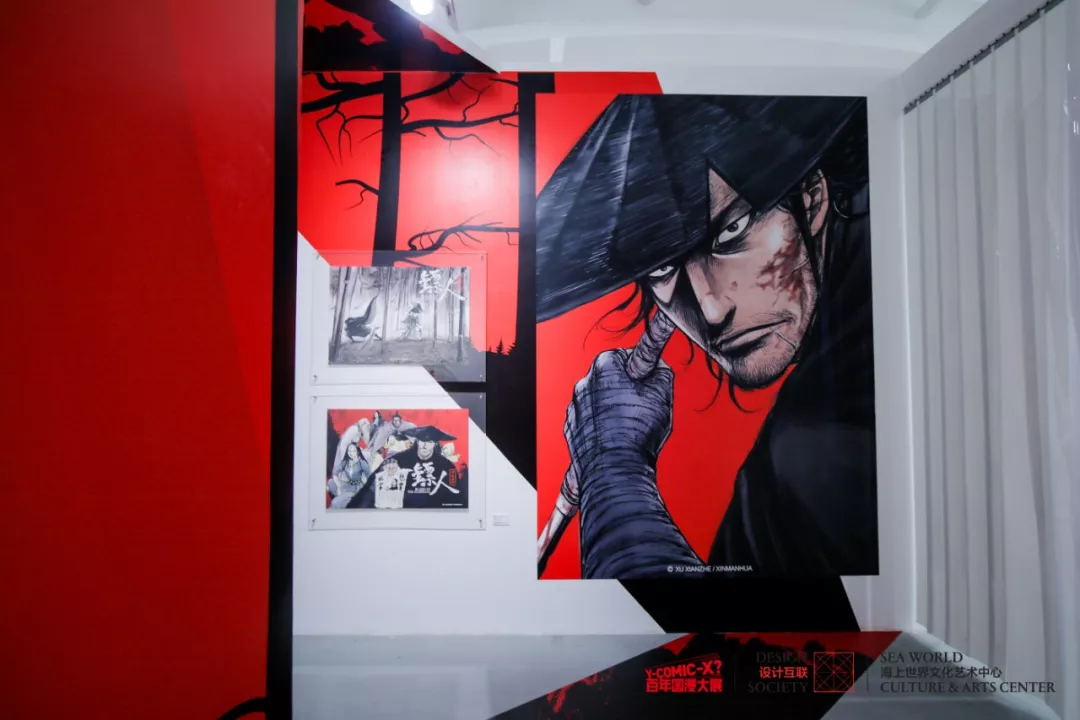 ▲超高人气的《镖人》,被誉为"世界级水平的中国动漫精品"
JinCheng, one of the exhibition advisors, deputy director of Chinese Artists Association-Comic Art Committee, director of Guangdong Province Comic Artists Committee, and director of Guangzhou Comic Artists Committee states: "As an important part of Chinese arts, comics have their own profoundartistic tradition. Chinese comics produced a lot of masters throughout history, as well as classical masterpieces, which are our precious cultural treasures. Congratulations to Design Society and the Sea World Culture and Arts Center. The exhibition brings these precious works to us, encouraging more people to know about comics as a medium of art, and witness their wonders in a "China story".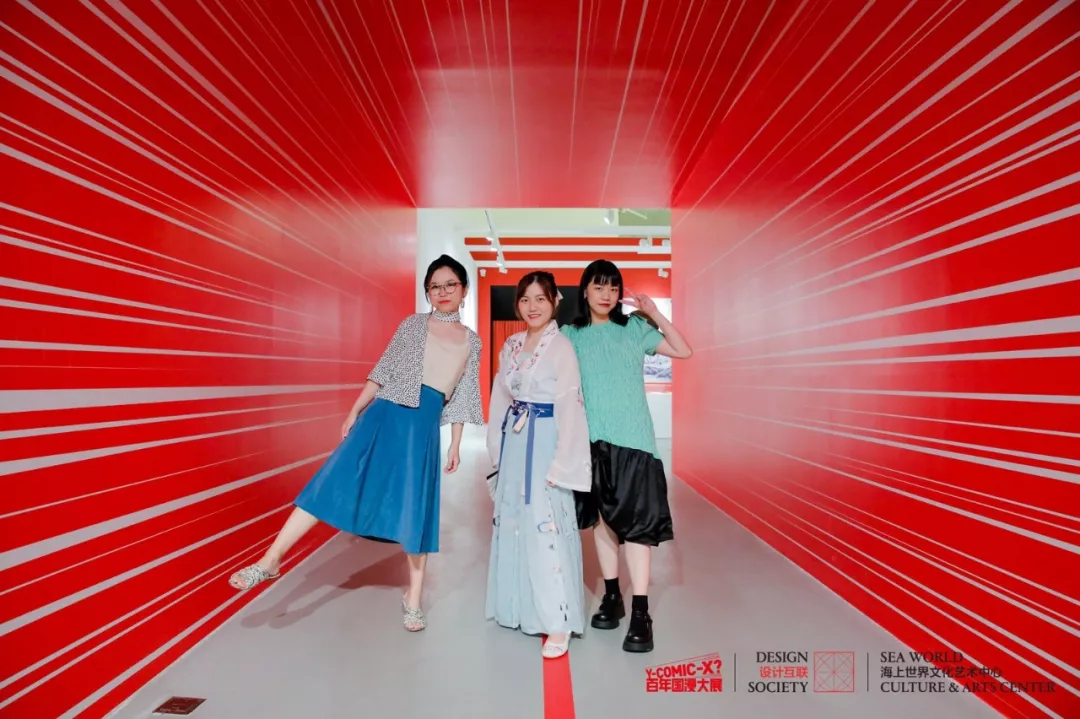 ▲ 打卡第一站,百年国漫的起点,一起穿梭进神笔飞驰的宇宙吧!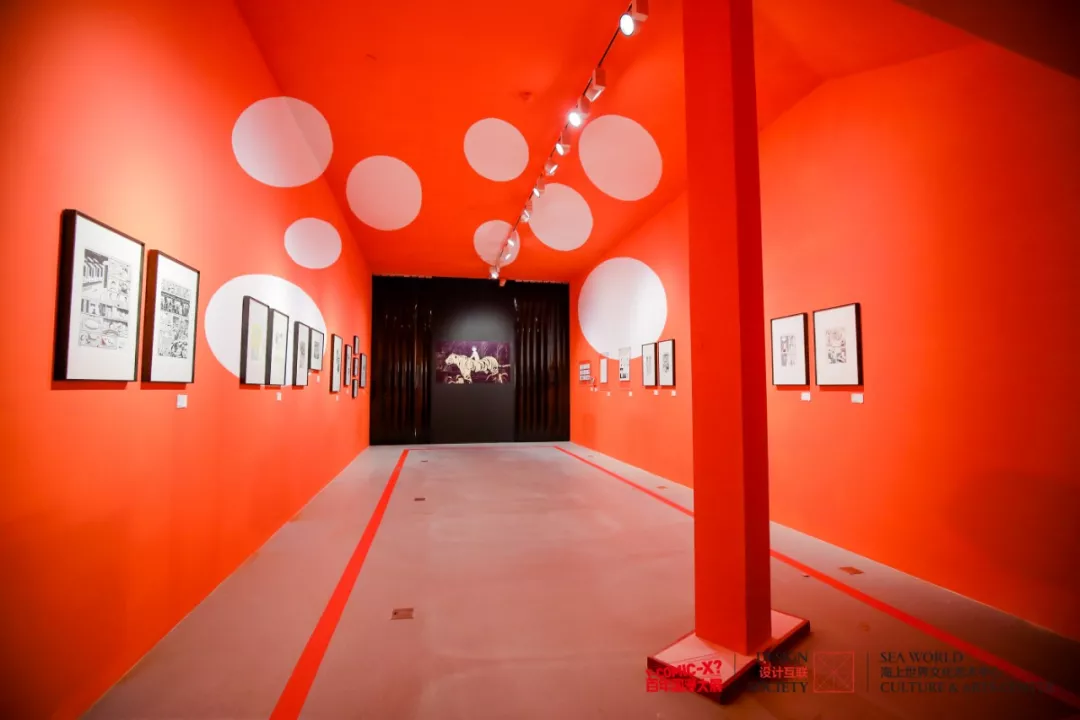 ▲#必打卡点# 头顶的圆形利用变透,其形状随着我们的移动而改变,在三维空间中形成独特的二维画面,同样的变透后面还有哦!
Yan Kai, another one of the exhibition advisors, another famous Chinese comics artist and animation director, stated with emotion that Chinese comics need to be seen. "We often see all kinds of museums holding comics exhibitions featuring original works; in Tokyo, San Diego and Angoulême in France. However, those exhibitions are rare in China, let alone known to the general public. Much appreciation to Design Society and all the staff who curated the exhibition, as well as the SeaWorld Culture and Arts Center, who made this exhibition happen in Shenzhen. Chinese comics need to develop, need to be seen."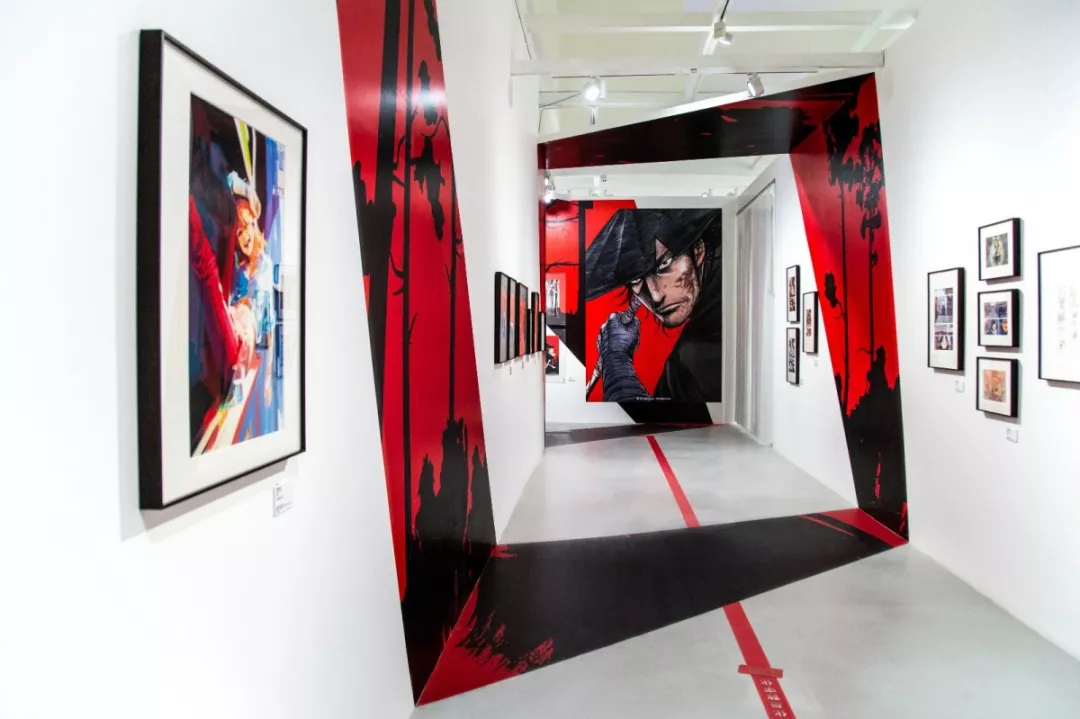 ▲ 6个主题章节对应6种不同风格场景,通过视觉的更迭移步换景,赋予充分的层次和视觉兴奋点
The light of Chinese comics: a full starcast
Y-COMIC-X? presents a rare gathering of great Chinese comics creations.
The audience can find a lost innocence in the child like sketches of Feng Zikai, "the father of Chinese comics", courtesy of Feng Zikai Research Society. Four of Feng Zikai's twenty-piece illustration series GivingYoung Son Feng Xinmei are presented to the public for the first time. Experience the warmth and humor of Zhang Leping through his much loved character San Mao, in San Mao Joins the Army. Meanwhile, they can admire sketches from Monkeys Fish for the Moon. Outstanding works from the Lianhuanhua, or Chinese comicstrips period include Monkey Subdues White-Skeleton Demon by ZhaoHongben and Qian Xiaodai, Reconnaissance Across the River by Gu Bingxin, Colossal Changes in the Village by He Youzhi, Fifteen Strings of Cash by Wang Hongli and SatiricalComics by Zhang Ding, all shown in the exhibition.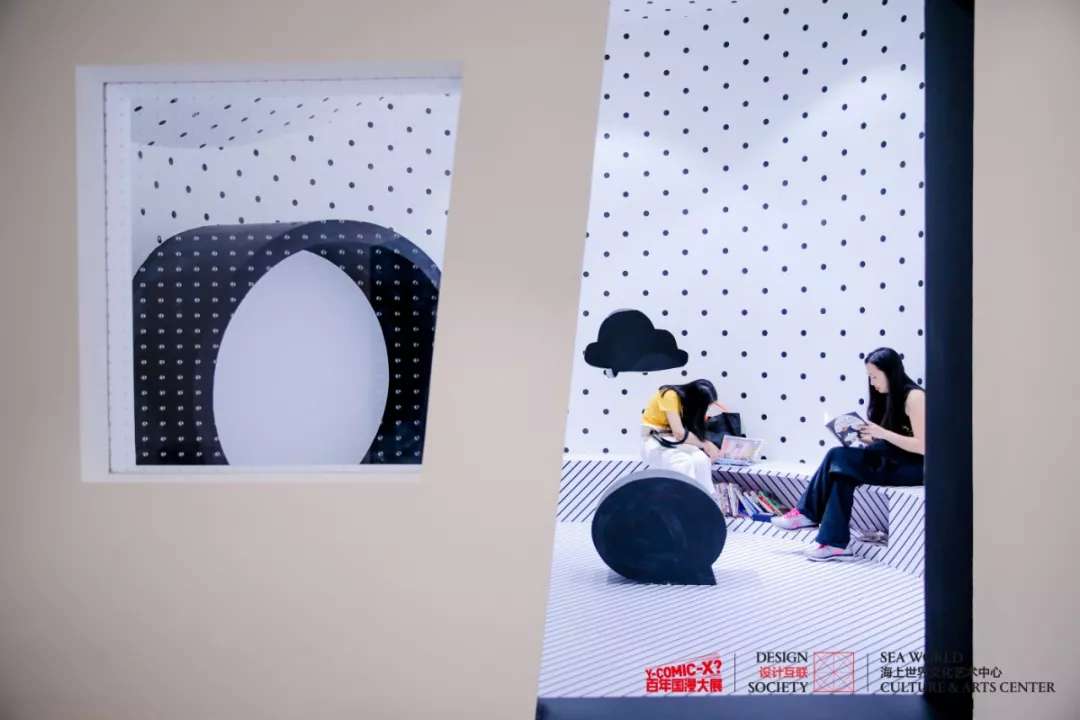 ▲ 在漫画阅览室,成为漫画主角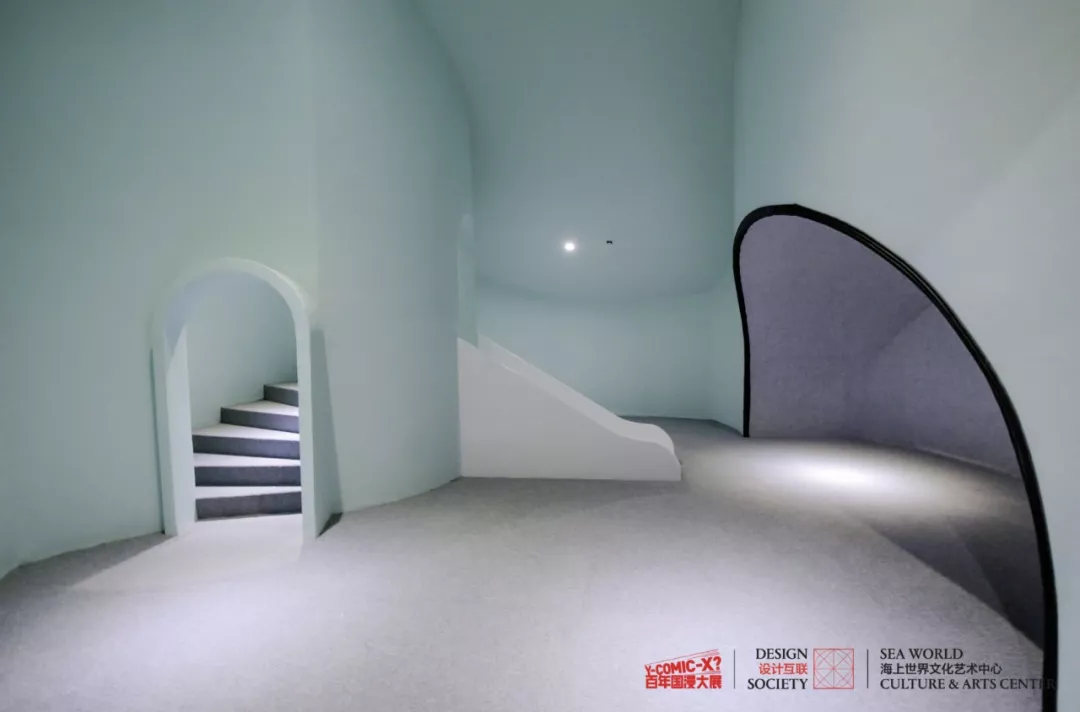 ▲ 打卡白色滑梯,就在亲子玩乐区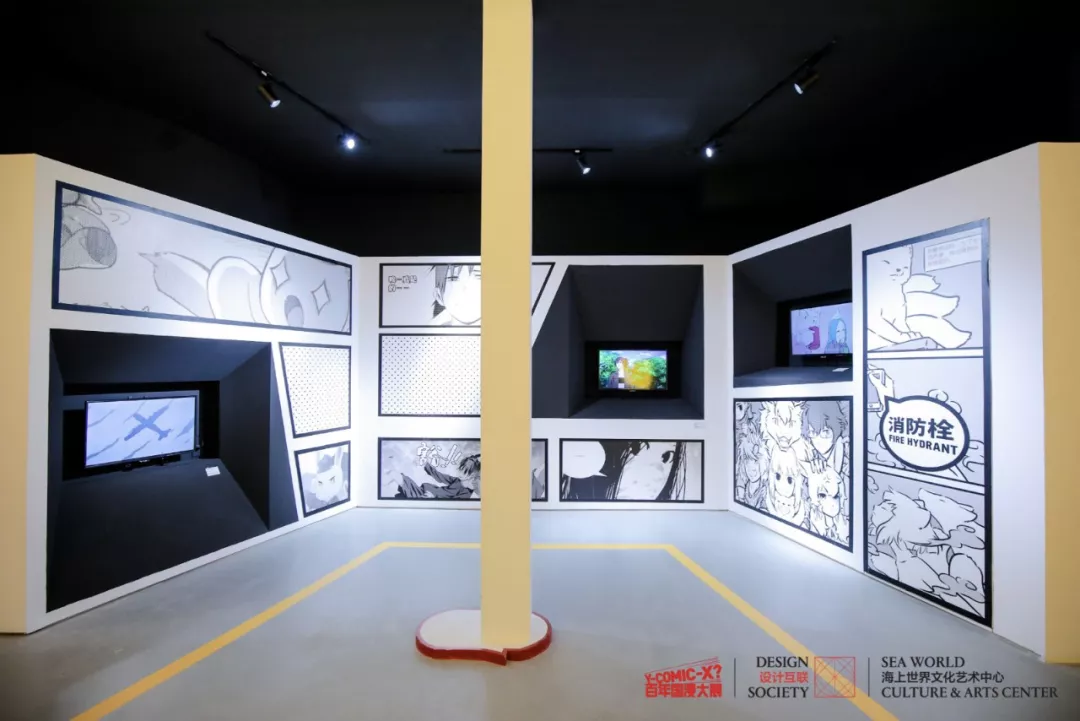 ▲ 亲子动画区,漫画与由漫画改编的动画片同步展现 -《那年那兔那些事》、《一人之下》、《非人哉》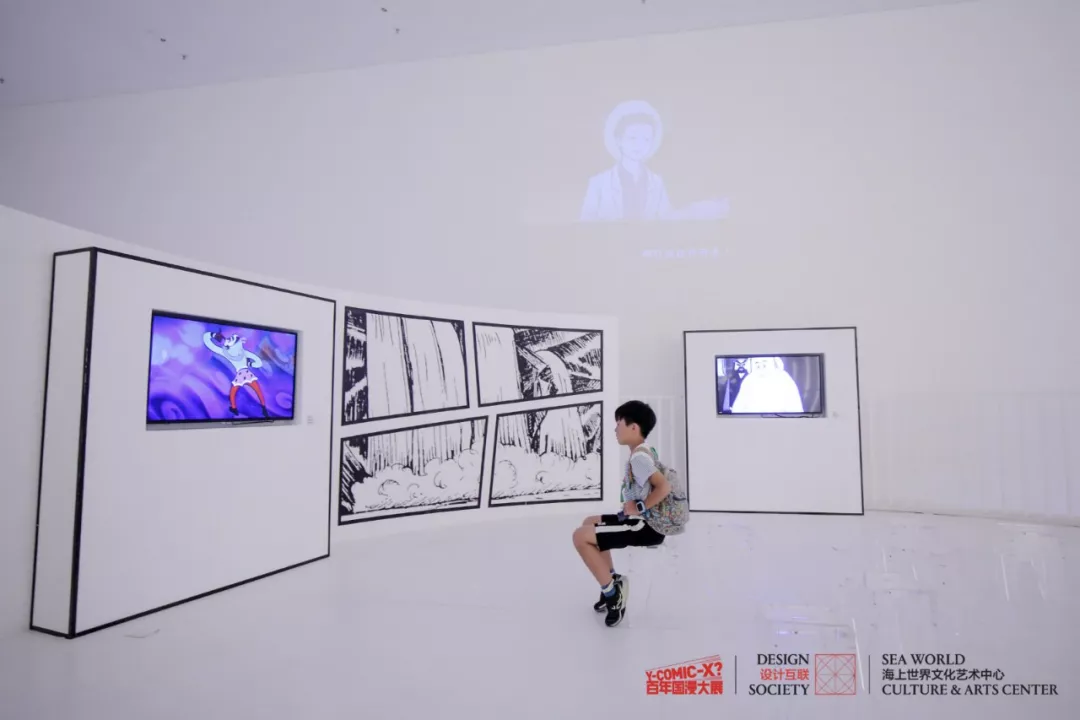 ▲二楼动画区,《铁扇公主》、《小蝌蚪找妈妈》、《大闹天宫》等经典国漫动画齐上阵
The introduction of Western and Japanese comics to China in the 1990s inspired many Chinese comics artists. Comic King, which debuted in August 1993, is one of the first homegrown comics magazines that published international comics in China, featuring Japanese works, as well as the works of domestic comics artists. Although the magazine was only published for one year, it had a profound impact on the development of Chinese comics. Artist Yan Kai started to publish his science-fictional comics story Xue Ye in 1994 in Comic King. The next big comics magazine was Comifans. Appearing in 1997, it gave many aspiring artists the chance to showcase their works. Comics by artists such as April (Xia Da) and Benjamin Zhang Bin have appeared in this magazine.
▲#必打卡点# -"变透的阶梯",同样利用我们的视错觉。要进入二维世界,你需要有同伴来帮你捕捉哦~
▲ 解除封印,来现场变身"戏精本精"!
▲汉服coser与漫展风格的反差萌
▲ 展览顾问金城、颜开、王宁等动漫届重磅人物,还有深圳金虹漫画的元老阿恒与刘玮,以及Dick Ng,设计互联团队副馆长赵蓉、策展人唐司韵、策展助理张睿、品牌总监顾灵等都忍不住现场玩起打卡照
▲ 《点心侠》的多面镜究竟怎么拍,快来解锁属于你的姿势吧!
The 1990s also witnessed the rise of homegrown cartoonists. Influenced by Jin Yong's martial arts novels, many comics series focused on Jianghu, or the itinerant world of swordsmen and vagrants in Hong Kong and Shenzhen. Many of these comics were included in Man Hua YuanZi Dan (Comic Atom Bomb), a comics magazine published by Jin Hong Manhua Co. in Shenzhen. In contrast to previous publications, the magazine showcased mostly Chinese comics artists. The same period saw the appearance of Funny School and On Line, witty campus comics that are still popular today.
One hundred years of Chinese comics, gathered in one exhibition
Comics are hailed as one of the most influential reading forms in the world and one of the most powerful expressions of mass literature, as well as one of the most popular youth cultures within visual culture. As a very inclusive art category, comics include many different formats: from ironic newspaper sketches pointing out societal problems, to wider-themed illustrations, Lianhuanhua (Chinese comic strips) and picture books.
Since 1925, Chinese comics have started to develop their own original style, transitioning from traditional line sketches and imitations of imported styles, and have gradually started emerging on the international scene. These comics cover everything from themes in our daily lives, to themes in classical literature and the fantasy of Chinese martial arts. The digital revolution has brought Chinese comics from ink and paper to the screen, challenging traditional concepts of "reading" and "drawing." Nowadays, modern comics are a popular medium of entertainment and art and have a huge influence on their readers.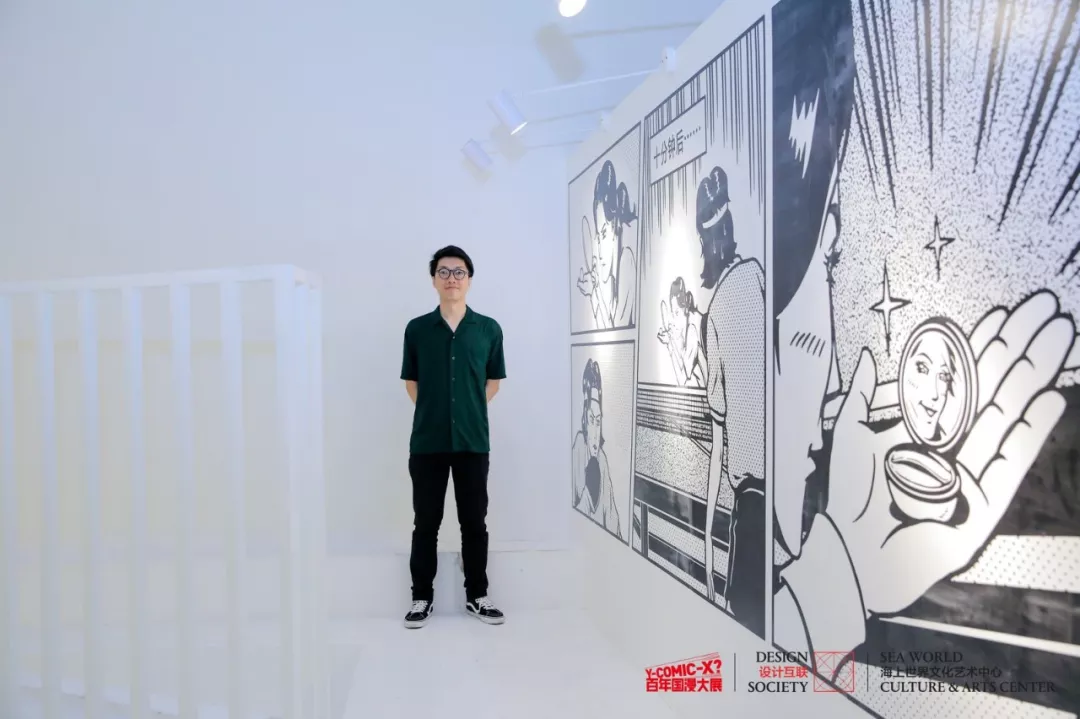 ▲ Dick Ng与他为漫展特别创作的漫画墙
▲ 一起来PK吧!
▲ By颜开老师~
A spatial experience of comics design
Comics area visual creation based on graphics, full of visual elements and layouts that are closely related to graphic design. Besides their unique artistic quality, comics graphics also expresses information such as time and movement.
DesignSociety hopes that the audience will be able to feel this specific comics design through the spacial experience in the exhibition. Two outstanding design teams located in Shenzhen customized the space and graphic design for this exhibition.
▲ 专业的导览员姐姐正在给大家培训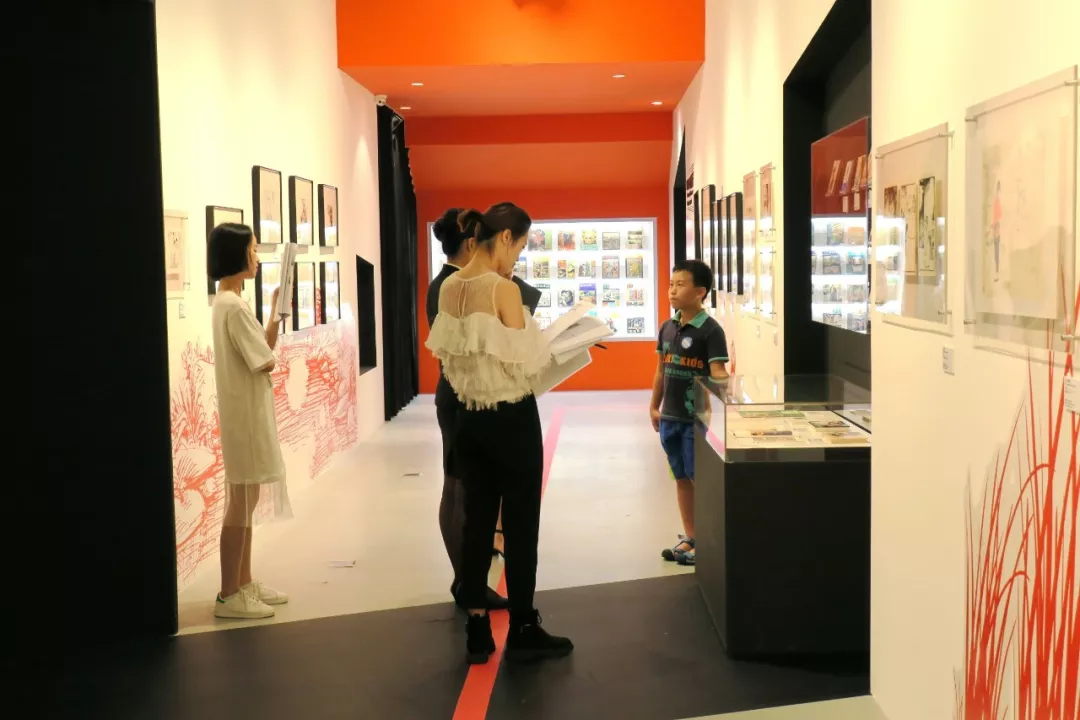 ▲ 认真模拟导览现场
Exhibition designer ZhouShi, managing partner of Studio 10 aims to explore the essence of comics through the exhibition's spatial design. "We think ofcomics as akind of narrative drawing, representing the three dimensional element of physical space, as well as the fourth dimension of time and dynamics within a two dimensional medium through use of specific visual techniques. The design of the exhibition space extracts and abstracts these elements, suchas panels, speed lines and brush strokes, to explore the transition ofdifferent dimensions in the space, giving visitors the feeling they are in a multi-dimensional, holographic comics world, and they are able to fully experience the playful and dynamic interaction between the two, three and four dimensions presented in the exhibition."
Graphic designer Zhang Shuo, the designing director and founder of SURE Design introduced to us thedesign thinking behind the onsite photography spots. "Much of the visual language iconic to comics has become more prominent in visual culture through the growing popularization of comics culture.Thereis alot of graphic terminology specific to the subculture, that has now been transformed into popular, independent graphic symbols, and is widely used in various visual expressions.
The Design Society exhibition Y-COMIC-X? , invited the advisors: Jin Cheng, deputy director of Chinese Artists Association-Comic Art Committee, director of Guangdong Province Comic Artists Committee, and director of Guangzhou Comic ArtistsCommittee; Paul Gravett, an important scholar in the field of comics art and history research; Wang Ning, the general manager of Beijing Total Vision Culture Spreads Co., Ltd, comic manager and Yan Kai, famous Chinese comics artist and animation director.
The exhibition is open to the public from July 20th to September 30th, 2019.
Location: Design Society, Sea World Culture and Arts Center
1187 Wanghai Road, Shekou, Nanshan District, Shenzhen, China
---
《百年国漫大展》现正火热展出
Sponsor:Design Society
Exhibition Period:July. 20. 2019 - September. 30 .2019
Address:1187 Wanghai Lu, Shekou, Nanshan District
Consultant:金城、Paul Gravett、王宁、颜开
Guiding Unit:中共深圳市南山区委宣传部
Price:¥38 - ¥80,Free for members
Regular price weekday ticket ¥60
It can be used within the national legal working day during the exhibition period, and one entry is valid.
Regular price pass ¥80
It can be used on any open day during the exhibition, and one entry is valid.
Promotion Pass ¥40
Elders over 60 years old, children aged 6-12 (to be accompanied by an adult), full-time students and teachers, and on-site purchases with valid identification can be used on any open day during the exhibition period. One entry is valid and limited to the person.
Free for members ¥0